Posted by Simon Caddy Electrical on 1 December 2017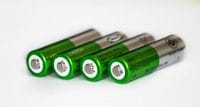 Rechargeable batteries offer power on-the-go with two key advantages over their disposable equivalents: 1. They're far cheaper in the long run, and
2. They're better for the environment. But because there are so many different types and brands, and because the upfront cost of purchasing a re-chargeable is higher than with buying disposables picking out rechargeable batteries is a little more difficult than battery shopping used to be. Even storing and caring for these...